"If You Want To

Build Online Buisness

That Makes =N=500k A Month Selling "how-to" Guides—This is for you!"
My name is Abolarin Kehinde. I used to be a broke internet hustler like most people online. With different brilliant ideas on "How Tos" but never knew how to turn them into real money for myself.
But one day something happened... A friend told me he has this little spare time home business that generated $2,000 in just two weeks (that's =N=730,000 at 365/$) and made far more, Year in and year out, virtually without lifting a finger!
So I decided to listen to him. What he did was, he simply created a simple "How to" guide on something he knows, packaged it, sold it online and he made $2,000 in just two weeks. Below is the screeshot he shared with me.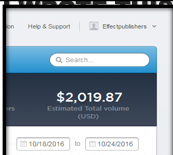 So I decided to humble myself to learn his system of selling online directly from him... briefly after the training, I lauched my own "How to" guide and began making some money online... 50k, 100k, 500k..., 1 Million etc...
And that's what I'd like to tell you about.

Six years ago, I was a struggling computer technician trying to make ends meet. I was constantly going broke that even sometimes, as brilliant and knowledgeable as I was, I couldn't even pay for my own one room rented apartment that was just a small money of 1,500 per month, 18k a year. Sometimes, I didn't even use to have food to eat. It was that bad. Had no savings of course.
Whenever I could, I spend time working online doing freelancing plus other things. I learned a lot about what most Small Business Owners (SMEs) really want... what interests them... what motivates them... and what certain "do it yourself" guide they'll spend money on.
Over the years, I have had a lot of problems and experiences that I had to solve many of my problems myself by doing countless of researches, attending seminars, subscribing to different trainings, buying books and leaning from my own mistakes. That made me think, "why not type up a nifty 'how -to' guide, use my friend's method (plus the ones I know) and see if ''SMEs would go for it"
So, the following Saturday, I spent about 4 hours putting together a simple 9-page guide.
Next, I took 10 minutes to place a small ad on Facebook and boosted it. I did nothing more than that.
SUPER SPARE-TIME PROFITS!
A few hours later, I started receiving emails from my payment platform, overflowing with orders!
(They nearly out used my gmail storage space.) I'm not kidding, I could hardly believe my eyes.
Well, you can imagine how busy I was for the next several days. I converted my little "how-to" guide into a pdf file and literally delivered the product one after the other. Then, I had to spend extral hours openning the mails and copy and paste the eBooks before I ended up automating the whole process. By the time things had settled down, I had received over 500k in my payment account. With more money coming in everyday!
That was the turning point in my life. No longer did I have to count pennies or skip lunches. Let me tell you, I fired-up.
Today, all I do is keep a small ad or two running in certain interest targeting on Facebook or other media platform I use. Once a week, I check my account for orders, spend an hour or so, looking through them and withdraw the money to the bank from my payment platform. Then, I'm free to do as I please.
And I have consistently been making more money steadily, every month. All part-time from my home. It's the easiest, quickest, most perfect way to make extra money I've ever found. And believe me, I haven't had so much fun in years!
In the last 4 years, to know if this method works well, I have looked through several others who does what I do...
A husband and wife from Costa Mesa, California, USA published a "how-to" guide about card games. They had received over 2,400 orders in just five months at Approx. $10.00 per order.
Another person, a 71-year-old retired woman in Akron, Ohio. She was running a small ad for her own 14-page booklet. Using five magazine ads, she sold over 2,500 copies of her travel booklet in just 90 days—all from her one-bedroom apartment on West Market Street in Akron.
Femi from Lekki Lagos, used this same system to package and sell his "how-to" ebook online and made $500 in less than 72hrs after spending just $2 on ads.
A young man (whose name I withheld) began promoting his own business opportunities books using a desktop computer in a spare bedroom during his first year he generated over $120,000 in book sale (That's about 44.9 Million Naira at N365/$)—all by placing his own small advertisements online.

Here's some surprising facts about this effort-free home- based business:
You can start in the privacy of your own home - in your spare hours. Nobody needs to know what you're doing. The amount of money you make is up to you... and you share the profit with no one else.
It takes virtually no big "capital" or experience ...it makes no difference where you live or what your education is ... your present financial circumstance is no barrier. (you can even start with zero capital if you don't want to run a paid ads.)
You don't need special skills. If you can write clear simple directions, you can succeed.
You don't even have to come up with how -to ideas on your own. Because first, I'll show you 20 'areas of interest" for simple easy-to-copy plans. next,
I'll give you a place to get creative ideas for fast selling how-to guide. Ready for you to select ...ready for you to make money.
At my spare time late last year, I wrote a few lines of words on an experience I had and converted it into an downloadable guide, sold it online using the spare time busines model system and made One Million Naira plus in less than 100 days. I tell you... This is truely a SUPER SPARE-TIME PROFITABLE BUSINESS!
Watch The Video Below To

See Proof

That This Method Works Fine And That It Can Conviniently Pay Your Bills
Sweat thing is... anyone can do this. You can replicate my method and use it to deploy your ideas inform of a guide and make money from it online from the comfort of your home and you can do it part time or full time as you wish.
I make money in Naira and in dollars. I sell to Nigerians and Non Nigerians.

And guess what else…
I've developed certain breakthrough methods and techniques, simple easy-to-follow starting instructions. All the secrets I've learned... all the lists I've compiled... all the pit falls to avoid. It's titled: THE NETPRENEUR FASTLANE...(NPF)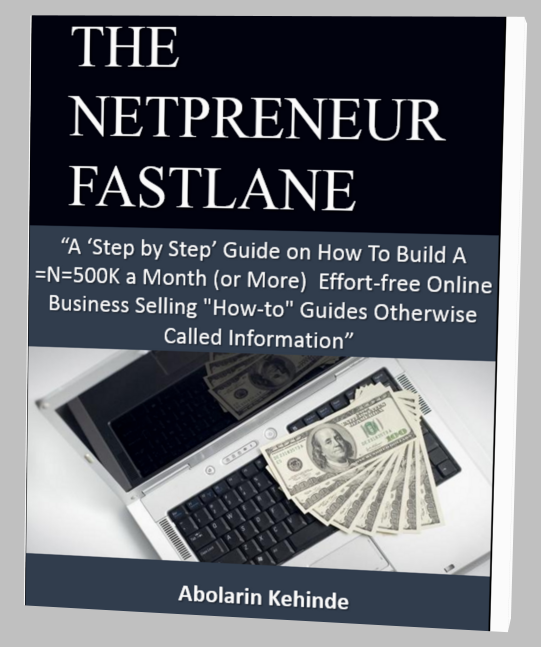 Basically, the NETPRENEUR FASTLANE is all about 'Making the MOST MONEY, with the MOST MINIMAL COSTS, in the MOST MINIMAL TIME.'

The methods in this breakthrough blueprint are so powerful you can begin making tidy sums of money right away. You'll learn that's so new, so exciting and so wildly profitable you will probably want to drop everything you're now doing and jump right in. Believe me, nothing exactly like this has ever been released before.
SO WHY AM I WILLING TO SHARE THIS INCREDIBLE BUSINESS WITH YOU?
Simple, the 115 billion dollars information market is so vast, I won't be competing with you. Nor you with me. Right now, my own ads are working for me pulling in money with a vengeance. And it's so easy, it's almost sinful!
Ideas for quick and easy "how-to" guide are everywhere. And the incredible demand is staggering. There seems to be no end of it. Best of all, there's a room for everybody. I don't compete with you. You don't compete with me.
Are you starting to see the money-making possibilities?
When your "anyone- can- do- it Blueprint is downloaded to your computer, you'll be off and running quickly. You'll easily learn:
how to prepare your own simple how-to guide
how to make a fortune from everyday knowledge you have.
how to place your small ad on Facebook that pulls money like crazy.
how to set up your own at-home business.
the best way to get deliver your "how to" guide on autopilot at low cost.
a detail instruction on how to use Facebook to sell your guide.
Examples of my most profitable plans to guide you all the way... step by step.
How to write a dynamite ad. One that will sell your "how to" guide for years,
how to save 15%-17% on every ad you place, how to determine your profits, how to keep records, complete easy-to-follow instructions and so on.
How to set up your office at home.
How to legally get 100s of active buyer email addresses to promote your product to for free. I will then go ahead and show you...

How to send emails to these buyer email addresses inbox without spending a kobo on email marketing.
I will also show you how to create an eCover for your guide without hiring a freelancer or paying anything for it. You will be able to create eCovers such as this blueprint cover and many more types.
Not only that, you will also learn...
How I used Google Adwords and Facebook to discover a HOT product that can sell in hundress and thousands.
How I Created 'the PRODUCT' using Notepad and Microsoft Word and convert it to a downloadable guide anyone can buy and get it delivered to them even while you are sleeping.
How to Created a seamless and inexpensive Sales System that made my NETPRENEUR FASTLANE STRATEGY highly productive and highly rewarding!

You don't need to buy a domain or hosting. I will show you how to get a free domain, free hosting (Advert-free) and free website to host and promote your "how to" guide online. (this alone can easily cost you N12,000 or $33 flat but I will show you how to get them for free)

...so if You don't have even $1 to even boost your Page on Facebook, talk less of buying a domain. You are totally down to your last and there is no hope for you. SMILE my friend, I've got something BIG for you.

I will also show you some awesome Facebook hacks I used and how you also can utilized them to...
Make yourself an authority in any niche of your choice within one week
Get up to 5,000 friends in 3-4 weeks and
Create your own Facebook Group and get 5,000 members in one hour! (This one will shock you!)
Will this work for Nigerians or Anyone in Africa?
Well, I am a Nigerian from Western Africa and if I can get this result, you can too... besides I have also shown this to some of my mentees and they have gone through this training and started getting results from it already.

Below are few of their testimonies...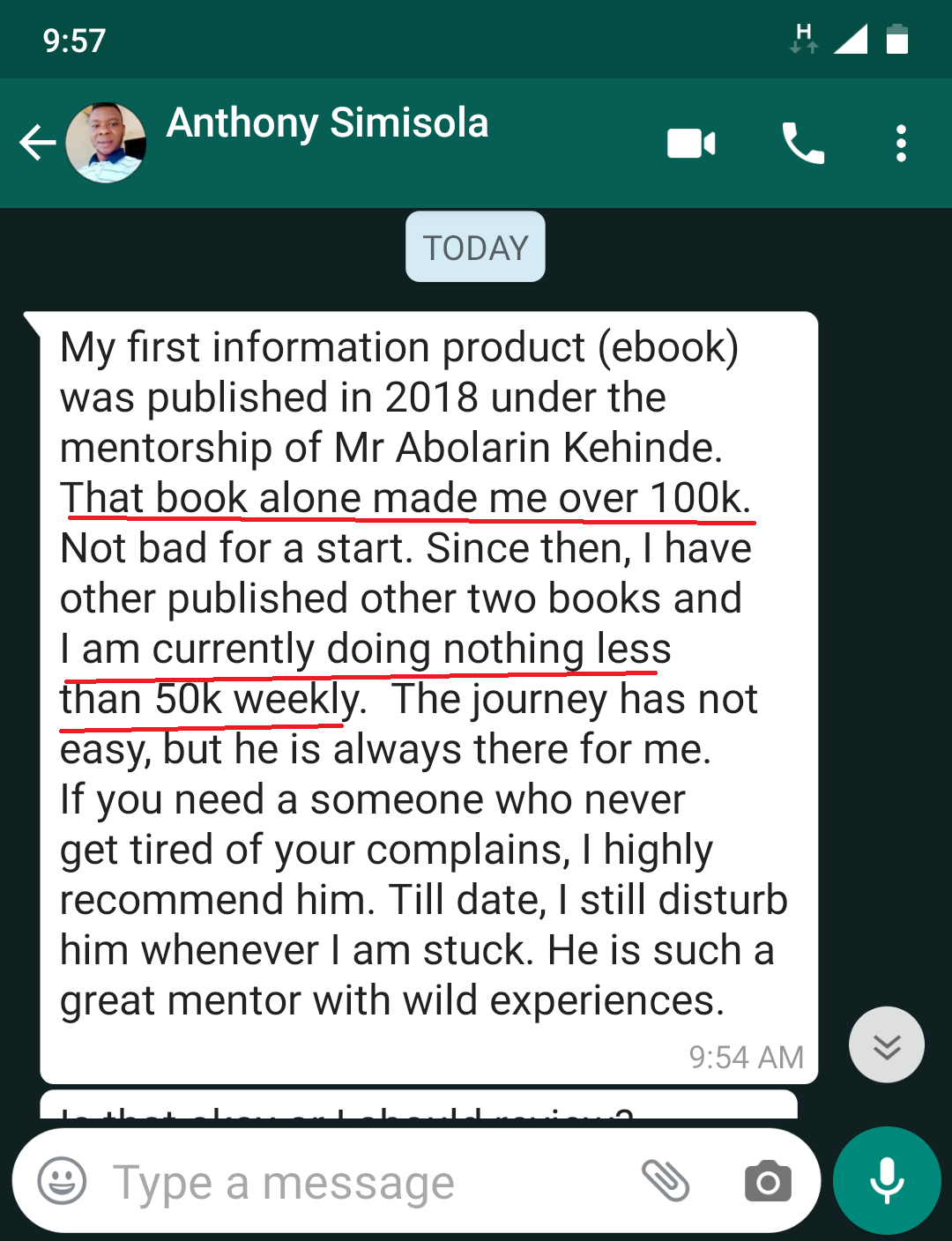 After going through one my guides, Anthony Simisola now makes nothing less than 50k weekly selling his 'how to' guide products.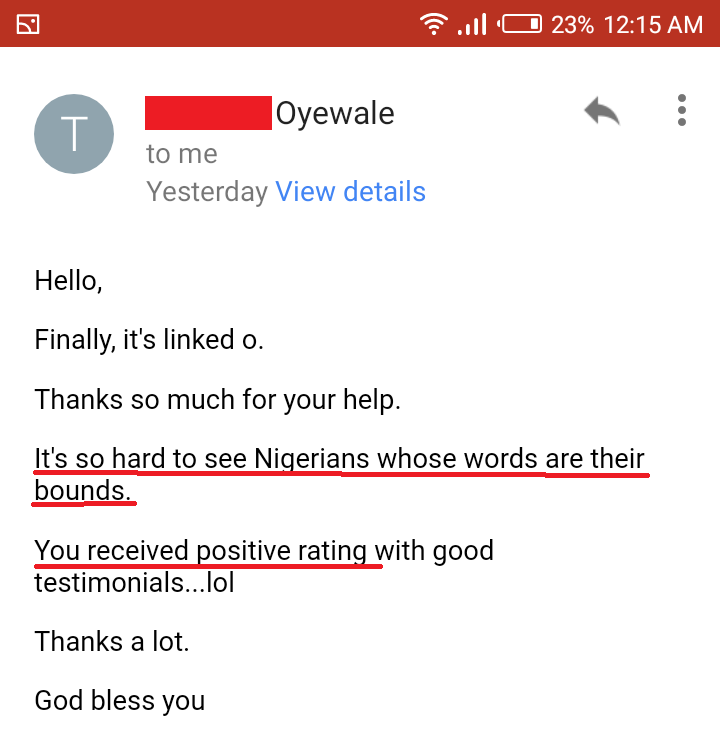 Yet another positive rating from Oyewale after getting satisfaction from one of the training he got from me.
Here is what Ola said abot this: in short, this is the fastest way to start making money online very fast.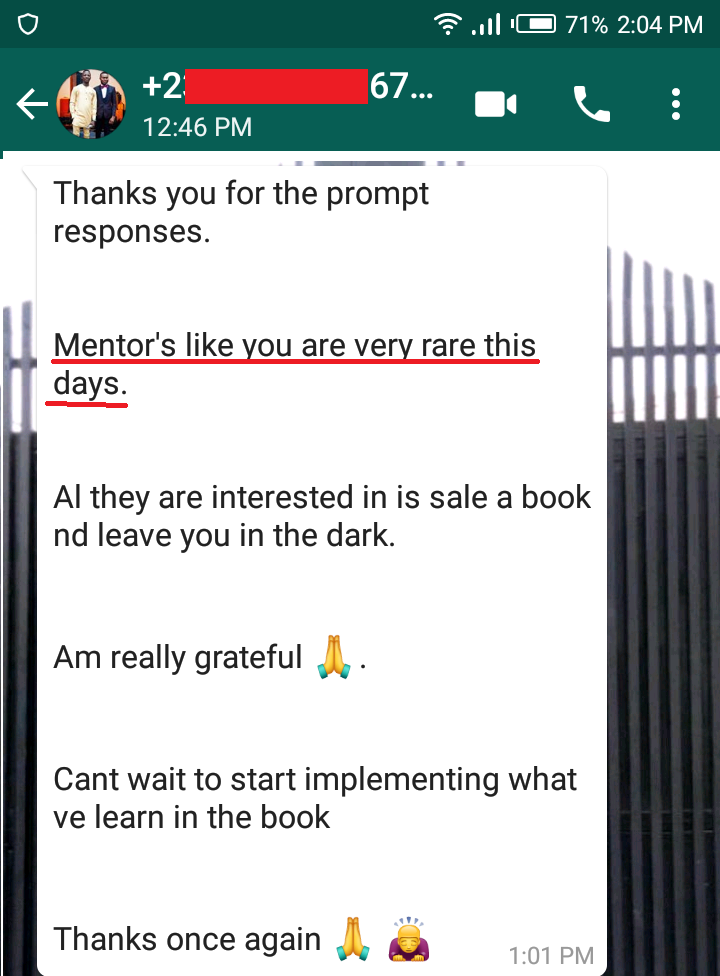 He experienced difficalties while implementing a training, he got from me. Yet, I stood by him and helped him out. That's what I do for all my students.
If I am to cost what I would charge to share with you this bluprint that teaches "indept" what I do to make money online I could easily ask you to pay me =N=150,000 on the spot and then I will reveal it to you… because the long term value is far more than any amount you pay me. It's simply priceless!
But now that I've finally decided to share this unique blueprint with you... you can be sure that you won't be making the same dreadful mistakes 99.9% of internet hustler make--the same mistake I made that kept me broke for years.
And the best part is...
I'm NOT Selling This Blueprint for =N=50,000 Either…
I want you to get your home business up and running and make so much money, it'll take 4 weeks just to audit your account. And change your life for good.

So, take a minute to click the Risk-Free link below to claim your copy of this blueprint immediately for only N15,000
Today, for a limited time, you'll get it for just =N=7,500.
Why Am I Doing This?
Why Am I Letting You Have This Blueprint For A Small Price Of =N=7,500?
1. The reason is that =N=7,500 compared to what you will spend on a similar guide, is far too ridiculously small. As a result, I am letting you have the comprehensive blueprint at that small price as my way of proofing to you that I simply want to help you jumpstart your home business.

2. I am a Business man (unlike other "guru's") I don't make all of my money teaching others how to make money.
3. My success typically created this blueprint, because of that, it doesn't hurt me to share with you my internet business systems—my money making blueprint and help you become successful online from the comfort of your home.
But to make it worth every single kobo of the =N=7,500, I've decided to give you more than just the blueprint.
Here's What I Mean
Once you claim your copy today... I will also give you for FREE, a number of exciting bonuses that will leave you no reason whatsoever to struggle or fail in online business ever again.
Here they are:
BONUS #1: How Start An Online Coaching Business (Video)
Fact is:
Every person has at least some information or interest in information that they can potentially make money with.
When you sell your expertise in the form of a course, an online program, or some sort of book, you get paid to talk about stuff that makes you curious or which pushes you to investigate.
There are more passive versions of selling your expertise than active ones.
Here's Just A Quick Preview Of What You'll DISCOVER INSIDE The Video Course...
You are going to learn how to start an online coaching business.
You will learn to identify what to look for in terms of opportunities and potential problems.
You will understand different coaching service sales models.
You can begin to understand the benefits of selling your expertise.
You are going to learn exactly how to set up live one-on-one appointment systems.
Not only that, you'll also learn the following…
The Benefits of Selling Your Expertise
Benefit From Passive Models of Selling Your Expertise
Sell Your Personal Expert Brand
Different Coaching Service Sales Models
Sell your coaching expertise through books
Sell Video Courses
Sell your expertise through scheduled webinars
Live webinars
Offer One-on-one Coaching
How To Start An Online Coaching Business - Cheat Sheet
How To Start An Online Coaching Business - Mind Map
How To Start An Online Coaching Business - Resource Guide
Plus, a whole lot more...
You will be able to plug in your earphones and watch each one of the videos in the comfort of your bedroom…
BONUS #2: How To Launch A Digital Product Business
Discover How To Start, Build and Launch Your Own Digital Product Business Without Breaking The Bank...
BONUS #3: Find Your Niche
Discover The Simple Steps That You Need to Take to Find Your Online Business Niche--discover the exact thing you should be doing online that can generate money for you consistently.
BONUS #4: Free Traffic Superpack
How to effectively drive massive traffic (website visitors) to your website and increase your income drastically without spending a kobo on Advertisment.
I am essentially putting in your hands, a proven system to lunch your online business from the comfort of your home.
Still Here?
At this point, I must warn you… Perhaps you are still thinking this is too good to be true... or just skeptical... well, I am not trying to turn you against anyone but you need to be careful who you share this opportunity with.
Some people are enemies of progress, they would rather die than see you take advantage of anything online business.
They will tell you things like… "It's can't be real", "It's another Scam", "That's how they say", "Their mouth is suger-coated, it's not always as they say", "It's not true, if it's true why has he not put all his family there?"... they would ask (in skepticism)...
"Do Nigerians really share wealth secrets with others? Black people don't share things that makes them money, if it truly works, he won't be sharing it with you",
"He just wants to collect your money and run (Even though they know that the new fedral government money policy won't allow this from anyone)" etc.
They would tell you all this but truth is they are enemies of progress, they won't do anything and they won't let you do. Before you listen to them think about it; Is He or she the one to foot your bills for the rest of your life? Especially during this period where everyone is working from home?
Ask yourself… is he or she a millionaire already with what he or she thinks he or she knows?
I guess we both know the answer.
They are simply chicken minded and little in their thought. If you listen to them, they will drag you down with them to their littleness... don't allow them.
All you have to do is to simply surprise them with your results.
At this point you need to really guide your mind with all diligence. Do not let these evil thought have room in it. Enough said.

One more thing...
If you believe this is for you, you need to know that…
Time Is Of The Essence...
This is a truly Limited Offer, so claim your copy now before it's no longer available again... I'm only making this availabe to a few 100 people, and when the spots are gone... well, they're gone!
If this page is still here, then the offer is live. But I reserve the right to increase the price to any amount I wish and to pull it down at any time.
Here Is My Guarantee
You risk nothing. To prove to you that you can make sensational spare-time earnings, you have my 30 days Iron-Clad Guarantee, if you're not delighted in every way, simply ask for your refund and... I'll SEND YOUR MONEY BACK! No questions, No hassle. No nonsense.

That's right.
You don't even have to send anything back. Just email me or request a refund and I'll give you back your money instantly.
Sound Fair?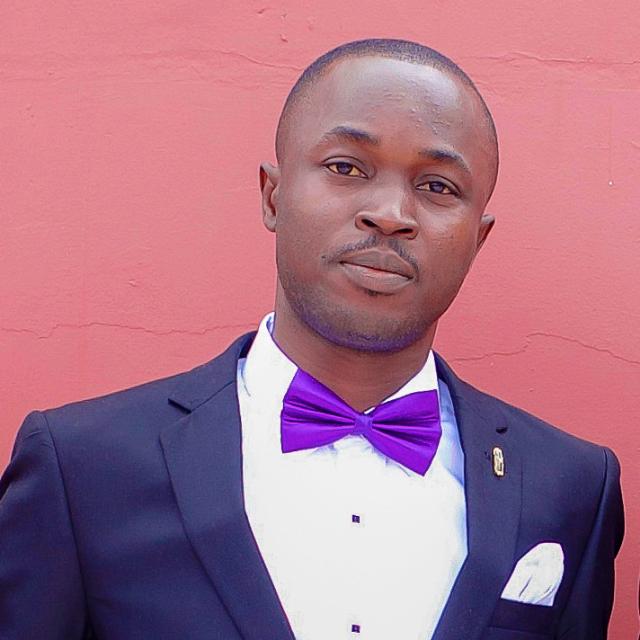 Thank you for taking the time to read this letter and I hope you enjoy the Blueprint and the free bonuses!
Thanks,
Abolarin Kehinde.
PS: Oh... one more thing, if you order your copy of THE NETPRENEUR FASTLANE today, I will gift you additonal two unique bonuses with it:
1. An easy-to-follow detailed instuction on How to open a ZERO Deposit US Bank Account (right here from Nigeria or any African country) you can use to receive any amount of your hard earned money worldwide and collect the money from Nigeria or Any Country's ATM anytime you wish. The US Bank Account have no risk of losing money or limitation whatsoever. (I can easily charge you 20k for this wihtout blinking but you get it for free if you order today)
2. A detailed guide on 'How to open a paypal account that lets you recieve and send money world wide" (Normal Nigeria Paypal can't do this). ( this particular information cost at least 7k in Nigeria, but you will get it for free if you order today)
With this Paypal Account, you can sell your "how to" guide to Tie-1 Countries Audience CONVINIENTLY without stress of card/payment failure. These Tie-1 countries have high purchasing power. Countries such as; United States, United Kingdom, Canadians, Australians, Europe etc. You will be able to receive your payment and cash it directly into your Nigerian bank account without using a third party exchanger.
You will be able to operate the account with your normal Nigeria network without changing your IP Address.
To make this whole process easy for you... I will also add for you a detailed video guide on how to set up an automatic payment system with the Paypal account. Payment system that let's you colllect your money and deliver your guide on complete autopilot--automatically. Click the button below to pay with Paypal to see what I am talking about.